Meet the DogWatch of Montana Team!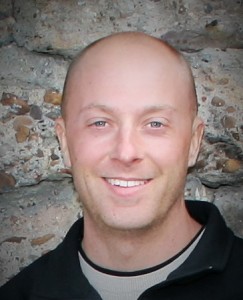 Larry "Ed" Johnson
Larry Johnson is the owner of DogWatch® of Montana. He received a Degree in Criminal Justice from Jamestown College and has recently retired from the U.S. Marine Corps where he flew the T-34, T-44, and KC-130 F/R/T/J. He is a veteran of Operation Iraqi Freedom and Operation Enduring Freedom. Ed holds a commercial pilots license in addition to being a Multi-Engine and Instrument Certified Flight Instructor. Unwavering integrity, attention to detail, dedication, and commitment are the foundations of his character. Always up for a challenge, he stands ready to answer any of your DogWatch® questions and looks forward to meeting all of your pet containment needs.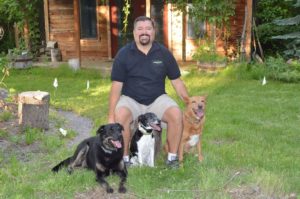 Monte Smith
Monte Smith is a member of the DogWatch of Montana team, covering Northwest Montana. He graduated from Flathead High School in 1991 and shortly after enlisted in the United States Marine Corps. He has deployed to Somalia, Operation Iraqi Freedom, Operation Enduring Freedom, and Haiti to assist earthquake victims. Monte retired as a Gunnery Sergeant in April 2012 and moved his family back to Kalispell. In May of 2012, he was hired on with the Flathead County Sheriff's Department as a 911 Dispatcher. In his spare time, Monte enjoys exploring the beauty of Montana with his wife, their two sons, and three dogs.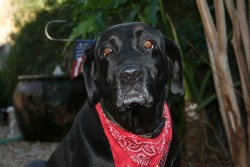 Big Duke
Big Duke just had his 13th birthday and has been enjoying the life of a retired Black Lab for a few years. He still perks up if someone happens to use the word "bird" in a sentence, but is quite content enjoying an all-day nap or the occasional bone. Prior to his retirement he passed on all his pheasant hunting knowledge to his "brothers", who have surprisingly done an amazing job as pheasant hunters themselves. As he has aged, the audible and vibration function of the DogWatch® receiver have helped him tremendously stay oriented within the boundaries of his yard.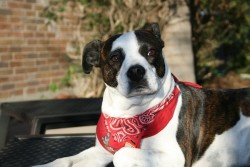 Little Duke
Little Duke is a Boston Terrier/Jack Russell mix. He loves his "brothers" and follows them everywhere. "Little" has a very sweet and shy demeanour. He especially loves Big Duke and cherishes all that he has taught him. His personality can sometimes be compared to that of a cat - in a dog suit. Little Duke gives "man's best friend" a whole new meaning and is always there to lend a helping paw. He spends most of his day watching T.V. and taking naps, although he is surprisingly the most athletic of the bunch. The DogWatch® hidden fence ensures that the deer and cats stay out of the yard and Little Duke stays in!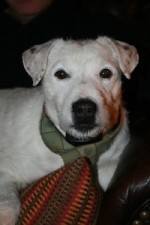 Bo
Bo is a purebred Jack Russell terror! His days are spent getting into as much mischief as a dog could possibly hope to find. Before being introduced to DogWatch®, Bo's mission in life was ensuring that landscapers stayed employed… along with gutter installers, automotive wiring specialists, patio furniture dealers, chicken/rabbit farmers, and finally DogWatch® Hidden Fence Dealers! Bo is a true testament to the success of a DogWatch® Hidden Fence system. DogWatch® has given Bo the freedom that he needs to be active and lively, while at the same time giving his owners the peace of mind that he will be safe and stay out of trouble.
Give us a call!
Our experienced, friendly staff is here to answer any questions you might have about your DogWatch product. Call or send us an email to request more information or set up an appointment.