It's all about your dog!
OUR STORY… We discovered DogWatch® after unsuccessfully trying a cheap do-it-yourself product. Our Jack Russell (Bo) escaped from the low cost alternative; luckily, he was victorious in the fight he had with a couple of chickens. Our neighbours' chickens on the other hand were not as fortunate, and it took some time to iron things out between all parties involved. After Bo's chicken incident we never fully trusted that system; the old saying, "You get what you pay for," continues to hold true.

Thankfully we were introduced to DogWatch® when our last home had a DogWatch® Hidden Fence already installed upon moving in. Being sceptical from our previous experience with an underground fence, we were put at ease when test day came unexpectedly one morning. A flock of turkeys came through the yard and a short but intense chase followed. The result--DogWatch® stopped all 3 dogs at the boundary like they had hit a brick wall. From that moment we have had 100% faith and confidence that our dogs will not leave their yard.


Click here to request more information.
Service Area
We provide services to customers in Montana, including the towns and cities of Belgrade, Billings, Big Sky, Big Timber, Bozeman, Butte, Ennis, Great Falls, Hamilton, Helena, Kalispell, Lewistown, Livingston, Missoula, Red Lodge and Whitefish, MT and the surrounding area.
Get a Free In-Yard Estimate!
Our representatives will meet you at your home for a free in-yard estimate. We will help assess your needs and customize a solution that suits both you and your pet. Call today or schedule an appointment to get things started!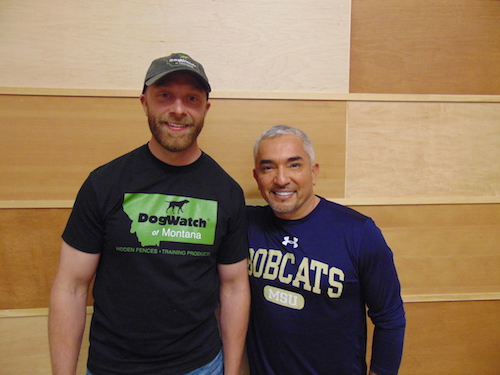 Why Choose DogWatch of Montana?
1. Our number one concern is the safety and well-being of your pet. We provide the support you need to ensure successful training and happy containment.
2. We provide a proven PetFriendly™ training program. We train your dog (or cat) to recognize the boundary flags and the audible warning signal (or vibration) before introducing the correction.
3. We are experienced professionals committed to providing excellent customer service and support. We strive to service every customer promptly and courteously.
We want to hear about your experience! Write us a review on Google+
Simply the best. No getting around it.™
Another reason to choose DogWatch of Montana is that we are an authorized DogWatch dealership. The DogWatch Hidden Fence is the most technologically advanced and the easiest to use, and it is backed up by a no-hassle Lifetime Warranty from a company with more than 25 years of keeping pets happy and safe.

What makes us Simply The Best?
---
Customer Testimonial
What a wonderful experience we had with Ed and DogWatch! As a family with 5 kids and one loveable puppy (by that I mean a 100 pound + 11 month old purebred mastiff) that is a proven escape artist; not keeping in a room, garage, kennel, fence, or anything else could keep Zeke from getting out, around, through, or over -- finding the right answer had us stumped until we got in contact with Ed. The solution was not only easy, but has exceeded our hopes!
P. Smith, Hamilton, MT